THE

MATERNITY SUPPORT BAND

YOU'VE BEEN SEARCHING FOR!
The pregnancy belly band that helps relieve back pain with ice & heat therapy and provides the belly support you need.



BACK PAIN RELIEF

SOLUTIONS
FOR THE 21ST CENTURY MOMMA
BECAUSE PREGNANCY SHOULD NOT EQUAL PAIN
Not only is this a great product, this woman-owned company has some of the best customer service I've ever dealt with. If you're looking for extra back, hip, and ab support, this is it. The bottom band rides low enough to pull the hips and pelvis together and relieve low back pain and pain from pubic symphysis disorder, while the top band adjusts to make wearing super comfortable. I initially had trouble with the fit, but on contacting SpandIce, they customized the bands JUST FOR ME. A purchase worth every penny.
Teresa
I use it more for prevention than treatment, and like to wear the tank with on long road rides. It keeps me limber and also kind of cool. Very comfortable and usable.
Heather
Loved the Spand-Ice wrap!! Made active recovery days and doing daily chores so much more comfortable in my third trimester!
Annie Tinker
I love wearing this after workouts. It's so great to just strap it on and go about my business! My husband also loves using it for lower back pain.
Gretchen
I HIGHLY recommend this product to anyone suffering from back pain during the pregnancy.
Jamie
I didn't think I would need a maternity support band, and now I can't imagine surviving without it. If you have any pack pain at all, do not hesitate to purchase it!
Kylee
SPAND-ICE CARES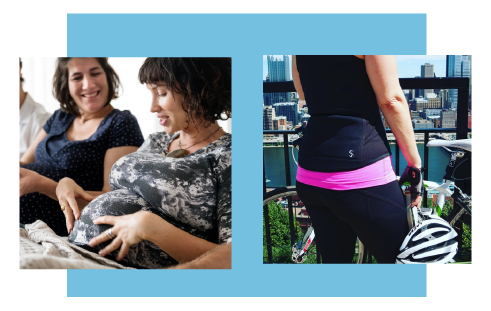 Spand-Ice makes pain relief products for modern moms who live life on-the-go. Launched in 2015, we proudly produce our therapy garments in the USA using the highest quality textiles and technology available. For new and expecting mommas, comfort reigns supreme, so we challenged our team to create the most flexible, soft, wearable belly bands on the market that would transition alongside your motherhood journey. Safe therapy for you and your baby that adjusts with your changing body. Plus, they're kind to your wallet: reusable ice/heat therapy packs are included with every wrap we sell. Our Maternity Support Band has been designed, tested, and redesigned based on customer feedback, so you get the pregnant pain relief and postpartum recovery you need.
Find the perfect Spand-Ice wrap
for your unique journey.